MOre About BOOKS, EVENTS AND THE AUTHOR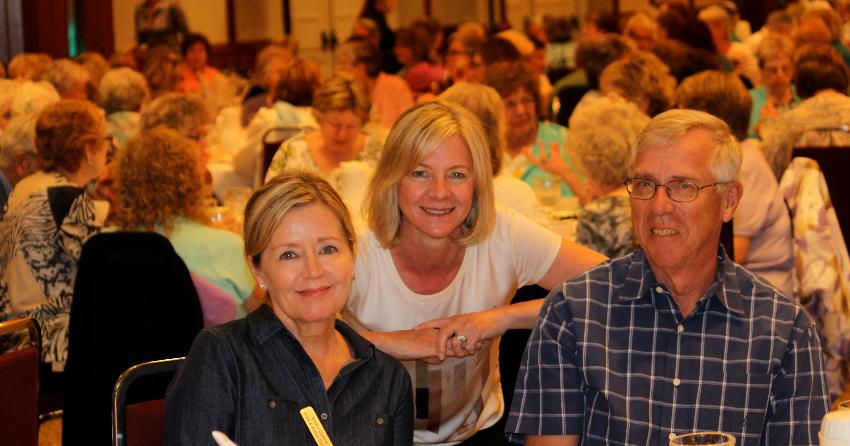 OFF THE BLOCK, DETROIT WRITERS ROCK
Above, my writer partners Paul Lewis Bancel and Robin Gaines and I (standing) at the Fall 2015 Metro Detroit Book and Author Society luncheon. Robin's book, published in 2017, is called Invincible Summers. It's her debut novel. I highly recommend it along with the following list of my current reads and favorite books.
Some of my favorite books so far this year in 2018 are written by VCFA faculty and recent grads like me. I'm currently reading The Concrete by Daniel Abbott of Grand Rapids, Mich. I've also recently finished: Nice People, New & Selected Stories II by David Jauss, and Flat Broke with Two Goats by Jennifer McGaha, which was released in January. My full review is available on Goodreads!
NICE PEOPLE:
David Jauss has anew book of short stories, Nice People: New & Selected Stories II. In this engrossing collection, Jauss offers an unsettling view of modern America from various perspectives. He takes readers behind the closed doors of the church confessional, shares conversations between friends at the kitchen table, and exposes marital secrets from the neighbor's bedroom. With a measured hand and an artistic touch, Jauss reveals what nice people are capable of when pressed. The storylines are mind-bending with unpredictable outcomes that can be disturbing. However, throughout Nice People: New & Selected Stories II, Jauss shows a deep appreciation for loss, sacrifice, and the power of vulnerability. Ultimately, this moving collection shines light on hidden passageways that may offer possibilities for renewal. It's here, in brief glimpses of unforeseen tenderness, that these heartfelt stories truly inspire wonder.
FLAT BROKE WITH TWO GOATS:
In her heartfelt memoir, Flat Broke with Two Goats, Jennifer McGaha recounts the painful fall from an upper-middle-class lifestyle to living off the land. When she and her husband lose their home through foreclosure, they take refuge in the mountains of western North Carolina. It's there, in a century-old cabin on the outskirts of town, where Jennifer must come to terms with her past and find her way into an uncertain future.
It's a fearless story of loss, love, and renewal chronicled with honesty and an unflinching eye. Jennifer McGaha's writing, which flows as naturally as the waterfall on the property, carries this compelling narrative. Much like her recipes for homemade yogurt and goat's milk soap, this authentic memoir deeply satisfies.
Some of my other recent favorites are: The Best American Short Stories 2016, Matters of Life and Death: New American Stories edited by Tobias Wolff, and the novels Fates and Furies by Lauren Groff, As I Lay Dying by William Faulkner, and The Road by Cormac McCarthy.
Last year some books I've most appreciated are: Wise Blood by Flannery O' Connor and Housekeeping by Marilyn Robinson.
For VCFA, I've also explored "the power of parallel universes in pre- and post- apocalyptic worlds" in Station Eleven by Emily St. John Mandel. Whether you are into science fiction or not, this is a great read! The author was one of the featured speakers this spring at AWP's conference in Los Angeles. Joining Mandel, is VCFA faculty member and poet Rigoberto Gonzalez. I had the wonderful experience of studying contemporary poetry (and salsa dancing) with Gonzalez in Puerto Rico. Such an amazing teacher and human being.

I also recently read The Book of Embraces by Eduardo Galeano. A lecture and discussion of Galeano's life and work by VCFA faculty member Patrick Madden was fascinating. I'm especially intrigued by the concept of sentipensante, feel-thinking, which Galeano describes as a process of "a language not of emotions divorced from intellect, from reason, in a world that, with its many obligatory divorces, also forces the separation of emotion from reason, as if they were irreconcilable enemies." Like Galeano, I believe "art is a lie that tells the truth."

Patrick Madden is the author of Sublime Physick: Essays.
BEST BOOKS:

The Heart is a Lonely Hunter by Carson McCullers is new to my all-time favorite list, which also includes:

Let the Great World Spin by Colum McCann
Beautiful Ruins by Jess Walter
The Light Between Oceans by M.L. Stedman
A Fine Balance by Rohinton Mistry (4.5/5 Barnes & Noble)
The Three Junes by Julia Glass
Mrs. Dalloway by Virginia Woolf
Other books I've recently read and would recommend are:
The Underside of Joy by Sere Prince Halverson
The Perfume Collector by Kathleen Tessaro
The Husband's Secret by Liane Moriarty