I was honored to present A Walk Through Time: Markers of Memories in Fiction and Non-Fiction on Nov. 10 at the Detroit Working Writers' annual conference. Memories play a pivotal role in storytelling. "They can provide backstory and help reveal and develop character, but they also have the power to propel your narrative forward." Thanks to Roberta Brown, Weam Namou, Iris Underwood, and all the other DWW members who helped make the day-long event a success. The Michigan State University Management Education Center in Troy was a wonderful venue.
Here's a link to DWW's Write,Speak, Poetry event. I'm up second reading an excerpt from the novel I'm seeking representation for: The Other Side of Sanctuary. Perched on the Sleeping Bear Dunes of northern Michigan, it's a psychological thriller about the fate of a young couple's troubled marriage and the spooling tensions that arise as a dark series of events unfolds.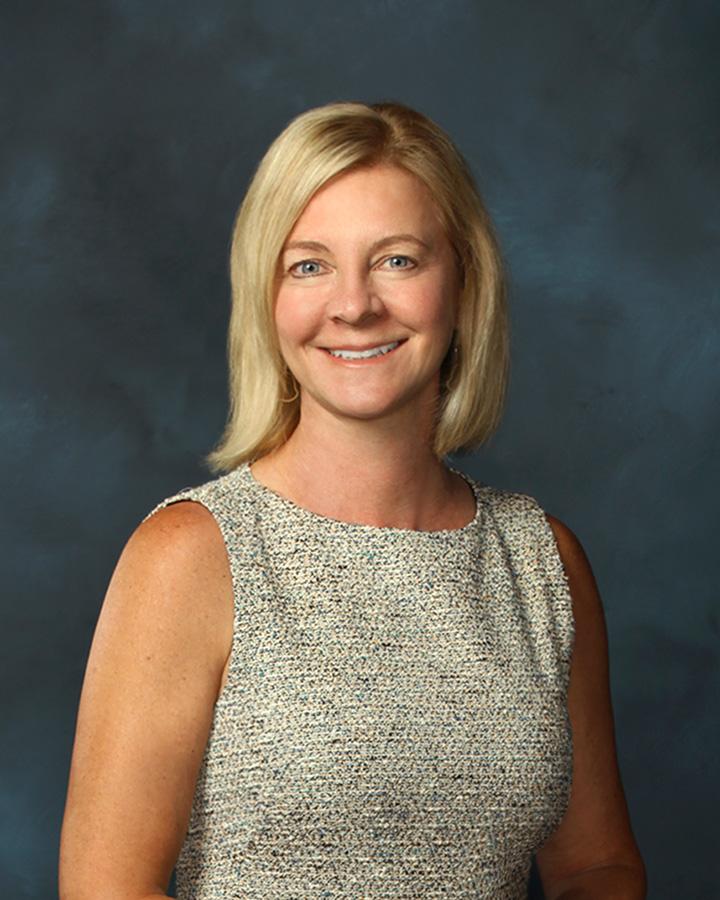 WELCOME TO THE HOME PAGE OF FICTION WRITER AND JOURNALIST CHERYL CRABB. CRABB IS SEEKING REPRESENTATION FOR WOMEN'S FICTION.
SUPER HEROES ARE EVERYWHERE:

So proud of the sixth-grade students at Estabrook Elementary in Ypsilanti, Mich., who wrote fictional super hero stories along with articles about real life super heroes in the community. I enjoyed volunteering to help the students share their stories with skill and confidence. The book, produced through 826michigan, is now available at their Robot Factory in Ann Arbor. Purchases support the writing programs of the non-profit organization which inspires school-aged students with learning opportunities such as the Young Authors Book Project.
Also, fans of children's literature, stay tuned for the new book coming out from the second and fourth grade students at Erickson Elementary. They've done a lot of hard work this fall with the help of a wonderful teacher from 826michigan, David Hutcheson, along with community volunteers like myself. We can't wait to show you all they've accomplished with the power of words and imagination!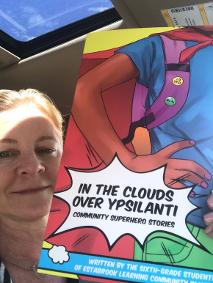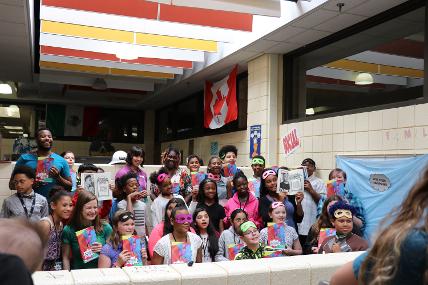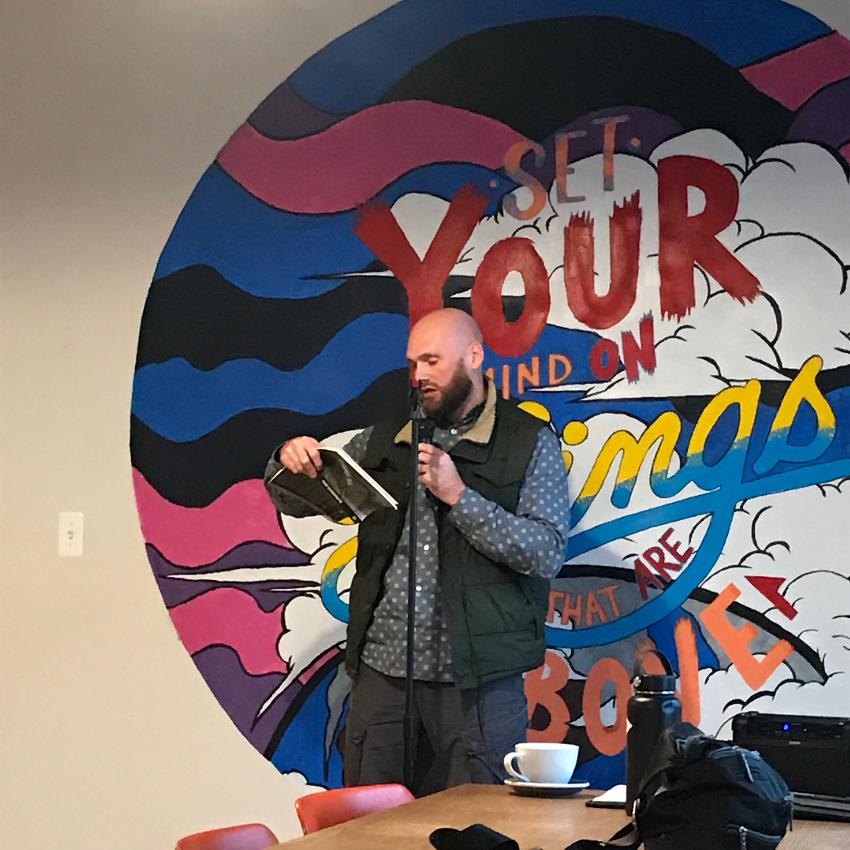 RECENT EVENTS:
I was so excited that Grand Rapids author and fellow VCFA alum, Daniel Abbott, could join us in November in Detroit for the East Side Reading Series, coordinated by Aubri K. Adkins. Abbott read from his new novel The Concrete, a gritty urban tale centered around a foster family in an entangled community plagued with violence while trying to confront the past and strive in various ways for a better life. I was also happy to hear again from Jesse M. Davila, another fellow VCFA alum who joined Daniel in the fascinating lineup of readers. I've really enjoyed all the events this year, including hearing Aubri's work along with Michigan poet Cal Freeman, Ohio poet Lee Chilcote and Michiganfiction writers Jenifer Smythe DeBellis, and Dorene O' Brien.
2017 WRAP-UP
I'm so grateful for everyone who supported me in my journey through the MFA in Creative Writing program at the Vermont College of Fine Arts. It was arduous, yet ultimately fulfilling when I read from my novel and received my diploma July 5. Special thanks to my advisors throughout the program, including author Ellen Lesser, faculty chair, who guided me to the finish line with her tough yet tender coaching. My graduate lecture, Traveling Through Time Without Leaving Your Mind, wouldn't have been possible without her encouragement and insights on time in fiction.
The lecture developed from my work this fall with author David Jauss, who helped me craft my critical thesis: Revealing The Deep Thrill of Small Joy in Mrs. Dalloway and Olive Kitteridge Through Multiple Points of View. I've found his craft book, Alone With All That Could Happen: Rethinking Conventional Wisdom About The Craft of Fiction Writing, essential to my studies.
I too thank author Clint McCown, who through laughter and tears, kept me on the road during the winter of 2016 when the journey into the novel was especially treacherous.
When i entered my first residency in June 2015, I couldn't have imagined all the experiences ahead: that my studies would take me to Puerto Rico, or Los Angeles where I participated in a VCFA reading at The Coburn School as part of the Association of Writers & Writing Programs (AWP) Conference. Last summer when I attended the residency in Vermont, I had the opportunity to hear author James Hannaham read an excerpt from his novel Delicious Foods, which became part of my graduate lecture. The exploitation at the core of the novel, which centers on the American food industry and could be called modern slavery, serves as a commentary not only on racism in our society today but the history of African-American labor on Southern plantations. It's heavy material certain to make many readers squirm. However, Hannaham's characters are too compelling to turn away from and his message too powerful to put down.
However, perhaps the most powerful part of the VCFA experience was the relationships I developed with my fellow students. I couldn't have wished for a better, or more dynamic, learning environment. I wish all the best to my fellow graduates who have been such inspirations to me. I will forever be grateful to you.
VCFA Highlights:
[Ellen Lesser (left) and I celebrate after graduation ceremony at VCFA. (Left) My earlier reading in Los Angeles.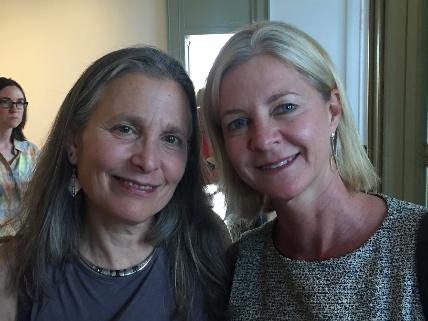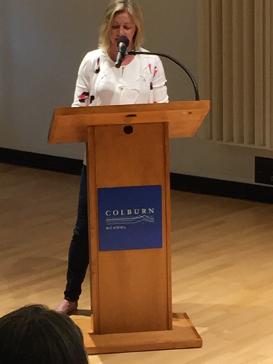 OLD STORIES AT THE CORE OF HUMANITY
I was inspired by bestselling author Wally Lamb, also a VCFA graduate. Here's my take on his VCFA informal talk from July 3, 2015.

Is there any one thing in your style of writing since the time back at VCFA when you first created Dolores Price (She's Come Undone) hat has stuck with you and continues to influence your writing today? -Cheryl Crabb
"Once Dolores was in my head, I couldn't stop," author Wally Lamb told students this morning at an informal lecture at VCFA.
He encouraged students to: "Write something you care about."
The idea of writing came to him at 13, Lamb said, when read three books: Animal Farm, The Red Pony, and To Kill a Mockingbird.
Of Mockingbird Lamb said, "it starts out a little slow, but then picks up when the kid's life" is known.
Once he got into books, Lamb read Catcher in the Rye, which he liked because the character in the book "talked like a real person."
The first person coming-of-age story opened the door for me, Lamb said.
Lamb recalled when Gladys Swan, his professor at VCFA, asked: "Why Do You Write?"
Lamb responded that he wanted to write books that people would want to read voluntarily.
"Gladys made a face like she was sucking on a lemon," Lamb recalled with a chuckle.
She encouraged him to "write what you need to write, and have the confidence the audience will find it."
At that point in his life, Lamb began reading great old works—stories that people are told over and over.
Lamb read the myths of the world and looked for common themes, which serve as the spine of his stories. He referenced The King and the Corpse (Heinrich Zimmer} among others.
Homer's The Odyssey was of the "guiding force" behind She's Come Undone. The character of Dolores is comfortable but confined before she gets out in the world and does battle with it, he said. She undergoes suffering and changes. By the end, it's a matter of whether that journey has been worth it, what has she learned, what found? Does she get something she needs?
A Hindu myth is the spine of I Know This Much is True, (which will soon be a series on HBO, Lamb noted afterward in a personal conversation).
In conclusion, he told students.
Go back and read the old stories, which are at the "core of our humanity".
CHERYL CRABB is a journalist and fiction writer with a career stretching from Chicago to Atlanta and New England. She's documented suburban sprawl as a staff writer for the Atlanta Journal-Constitution and was a regular contributor to The Hartford Courant. A new member of Detroit Working Writers, she recently graduated with an MFA in Creative Writing from the Vermont College of Fine Arts. She lives outside Detroit with her husband and three daughters.
Phone:248-231-2263
Email:cherylcrabb1@yahoo.com
Be my friend on Facebook!
Send me a Tweet on Twitter
Connect with me on LinkedIn