THE OTHER SIDE OF SANCTUARY ... COMING JANUARY 2020 FROM ADELAIDE BOOKS
Everyone needs a sanctuary, but what happens when there is no longer a place for refuge?
Set along the northeastern shores of Lake Michigan,The Other Side of Sanctuary is the story of a young family in crisis and the spooling tensions that arise as a dark series of events unfolds. Laura Warner leaves her troubled home in Wisconsin home after high school and arrives in the village of Sanctuary searching for a new life. There she spies Rob Sanders out on his paddle board struggling to find a way forward. Drawn together, alone at the water's edge, the two forge an instant bond. Soon she gets pregnant.They get married and have the baby. Two more children, a girl and a boy, roll in one after the other like the waves. But in contrast to the scenic beauty of their small beach town that fills with summer tourists, Laura and Rob grapple with a failing business and a dying love. Nothing prepares them for the tragic accident that follows and the harsh revelations that cast them adrift. Laura and Rob search for answers, unaware they're traveling toward a collision that will either shatter or save their vulnerable family—or maybe, both.
— Get connected to Adelaide Books at:
WELCOME TO THE HOME PAGE OF FICTION WRITER AND JOURNALIST CHERYL CRABB. STAY TUNED FOR MORE INFORMATION ABOUT THE OTHER SIDE OF SANCTUARY, COMING OUT IN JANUARY 2020 FROM ADELAIDE BOOKS!
WANT TO LISTEN IN?
Here's a link to DWW's Write,Speak, Poetry event where you can hear an excerpt of me reading (I'm up second)from the forthcoming novel The Other Side of Sanctuary.
CONNECT WITH ME ON FACEBOOK
https://www.facebook.com/cherylanncrabb/?ref=aymt_homepage_panel&eid=ARBTxXudTN38RuPJ8rOMGECmS6MLnl01xd3I-yE8VhzY_oL0X9WaHxDlRBN3fnxmBEwQ1C4szI4ZsA8_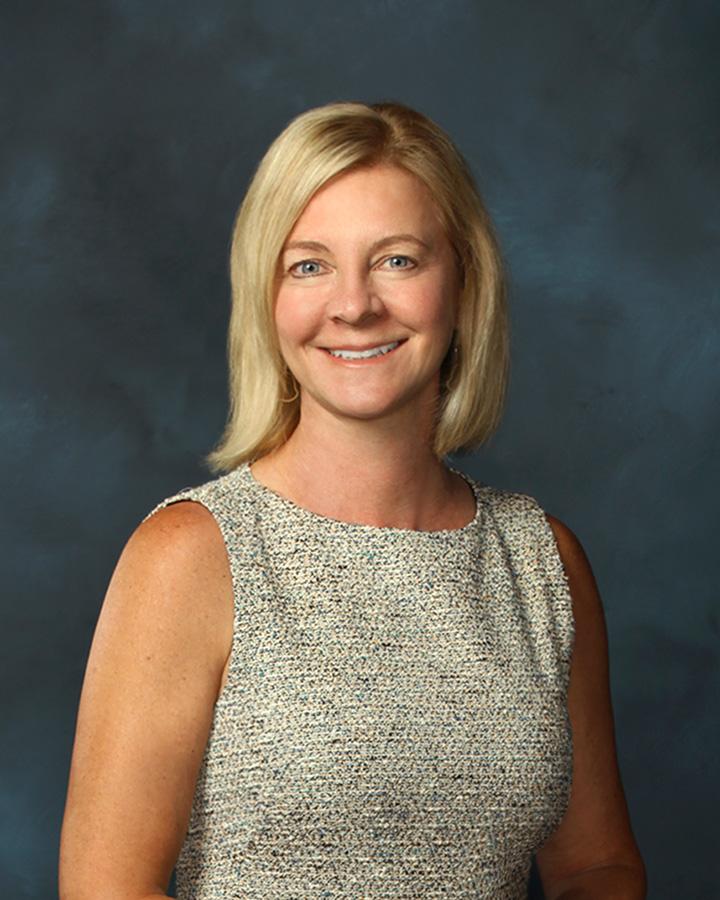 CHERYL CRABB is a fiction writer and accomplished journalist. She's worked as staff writer for the Atlanta Journal-Constitution and as a regular contributor to The Hartford Courant. Crabb is member of Detroit Working Writers and the Association of Writers & Writing Programs (AWP). A Wisconsin native, she and her husband live in metro Detroit with their three daughters and frequently visit northern Michigan.The Other Side of Sanctuary is her debut novel.
MORE ABOUT MY PERSONAL STORY:
Here's a link to the Oped column I wrote for the Detroit Free Press: Florida shooting reminds that gun violence stays with you for a lifetime
https://www.freep.com/story/opinion/contributors/2018/02/16/florida-shooting-high-school-parkland/341717002/
WRITING FUN FOR KIDS OF ALL AGES AT 826MICHIGAN
In my spare time, I enjoy spending time with some inspiring student writers, including the second and fourth graders at Erickson Elementary in Ypsilanti. They've done a lot of hard work with the help of a wonderful workshop leader from 826michigan, David Hutcheson, as well ascommunity volunteers. The kids story collection I Suddenly Became Noddles is available at the non-profit organization's Robot Supply and Repair store:115 E. Liberty St. in Ann Arbor, MI. All proceeds support the writing center.
SUPER HEROES ARE EVERYWHERE:
So proud,too, of the sixth-grade students at Estabrook Elementary in Ypsilanti, who wrote fictional super hero stories along with articles about real life super heroes in the community. I enjoyed volunteering to help the students share their stories with skill and confidence. The book, produced through 826michigan's Young Authors Book Project, is now available at the Liberty Street store in Ann Arbor.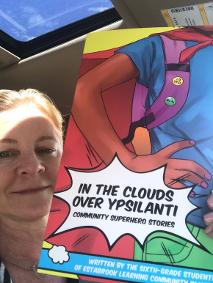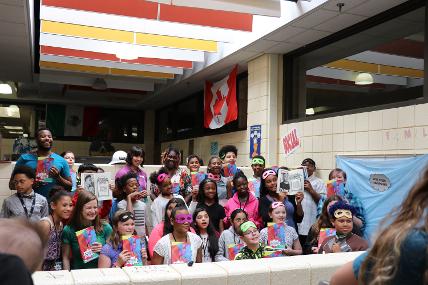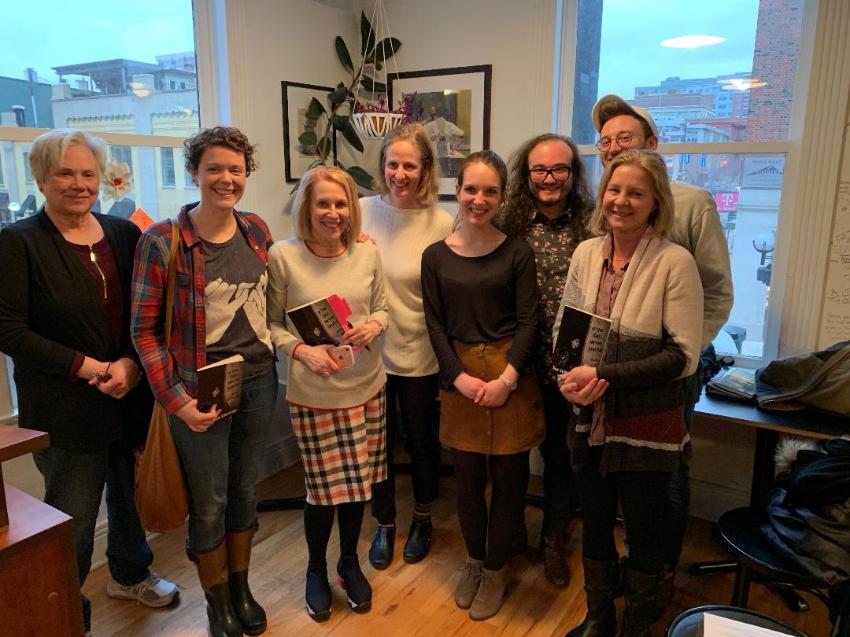 VCFA MINI-REUNION IN MICHIGAN:
So great to see Sue William Silverman at Literati Bookstore in Ann Arbor this spring and hear her read from The Girl Never Learns. Such a memorable night of powerful poetry and prose with Lisa Folkmire, Santino DallaVecchia, Andrew Hahn and Michelle Webster-Hein.
WEST MEETS EAST AT READING SERIES IN DETROIT:
Recently, Grand Rapids author and VCFA alum, Daniel Abbott, joined in Detroit's East Side Reading Series, coordinated by Aubri K. Adkins. Abbott read from his new novel The Concrete, a gritty urban tale centered around a foster family in an entangled community plagued with violence while trying to confront the past and strive in various ways for a better life. Jesse M. Davila, another VCFA alum, also joined Daniel as one of the fascinating lineup of readers in November 2019. Earlier readings, in 2018, included: Michigan poet Cal Freeman, Ohio poet Lee Chilcote and Michigan fiction writers Jenifer Smythe DeBellis, and Dorene O' Brien among several others.
Vermont College of Fine Arts Highlights:

[VCFA Faculty Chair Ellen Lesser (left) and I celebrate after graduation ceremony July 5, 2017 (Left) My earlier reading with VCFA at The Coburn School as part of the Association of Writers & Writing Programs (AWP) Conference in Los Angeles.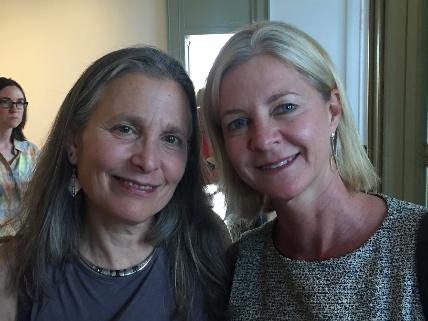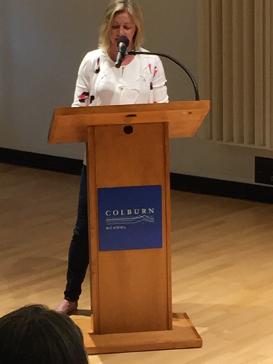 THE LAST WORD
(A CONVERSATION WITH AUTHOR WALLY LAMB)
OLD STORIES AT THE CORE OF HUMANITY?
Is there any one thing in your style of writing since the time back at VCFA when you first created Dolores Price (She's Come Undone) that has stuck with you and continues to influence your writing today? -Cheryl Crabb
"Once Dolores was in my head, I couldn't stop," author Wally Lamb told students this morning at an informal lecture at VCFA.
He encouraged students to: "Write something you care about."
The idea of writing came to him at 13, Lamb said, when I read three books: Animal Farm, The Red Pony, and To Kill a Mockingbird.
Of Mockingbird Lamb said, "it starts out a little slow, but then picks up when the kid's life" is known.
Once he got into books, Lamb read Catcher in the Rye, which he liked because the character in the book "talked like a real person."
The first person coming-of-age story opened the door for me, Lamb said.
Lamb recalled when Gladys Swan, his professor at VCFA, asked: "Why Do You Write?"
Lamb responded that he wanted to write books that people would want to read voluntarily.
"Gladys made a face like she was sucking on a lemon," Lamb recalled with a chuckle.
She encouraged him to "write what you need to write, and have the confidence the audience will find it."
At that point in his life, Lamb began reading great old works—stories that people are told over and over.
Lamb read the myths of the world and looked for common themes, which serve as the spine of his stories. He referenced The King and the Corpse (Heinrich Zimmer} among others.
Homer's The Odyssey was of the "guiding force" behind She's Come Undone. The character of Dolores is comfortable but confined before she gets out in the world and does battle with it, he said. She undergoes suffering and changes. By the end, it's a matter of whether that journey has been worth it, what has she learned, what found? Does she get something she needs?
A Hindu myth is the spine of I Know This Much is True, (which will soon be a series on HBO, Lamb noted afterward in a personal conversation).
In conclusion, he told students.
Go back and read the old stories, which are at the "core of our humanity."
By Cheryl Crabb
VCFA informal talk with Wally Lamb from July 3, 2015.

Phone:248-231-2263
Email:cherylcrabb1@yahoo.com
Be my friend on Facebook and Instagram
Send me a Tweet on Twitter
Connect with me on LinkedIn